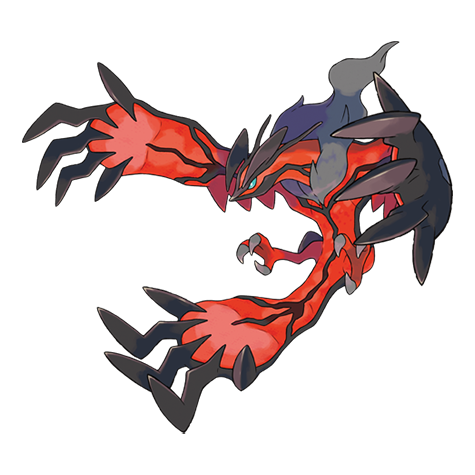 Info
Yveltal is the dual-type Dark/Flying Destruction Pokémon. It, along with Xerneas, are Legendary Pokemon of Pokémon X and Y.
Biology
Physiology
As a bird based Pokémon, it has huge flaps that are red colored internally and black colored externally .When Yveltal straightens its arms in flight, it forms the shape of a Y. This, along with the fact that Yveltal travels up and down, like the y axis, is why the game is called Pokémon Y.
Behavior
Yveltal represents destruction, so it seems to be an angry Pokémon.
In Anime
Yveltal is set for an anime appearance in M17 along with Xerneas and Diancie in the upcoming Pokemon X and Y movie.
In Manga
Yveltal battled Xerneas and destroyed X and Y's hometown, Vaniville Town.
Locations
X/Y
It can be only obtained in Pokemon Y in Team Flare HQ.
Pokedex Entries
X
When this legendary Pokémon's wings and tail feathers spread wide and glow red, it absorbs the life force of living creatures.
Y
When its life comes to an end, it absorbs the life energy of every living thing and turns into a cocoon once more.
Gallery
Sprites
Artwork
Anime
Videos
Ad blocker interference detected!
Wikia is a free-to-use site that makes money from advertising. We have a modified experience for viewers using ad blockers

Wikia is not accessible if you've made further modifications. Remove the custom ad blocker rule(s) and the page will load as expected.