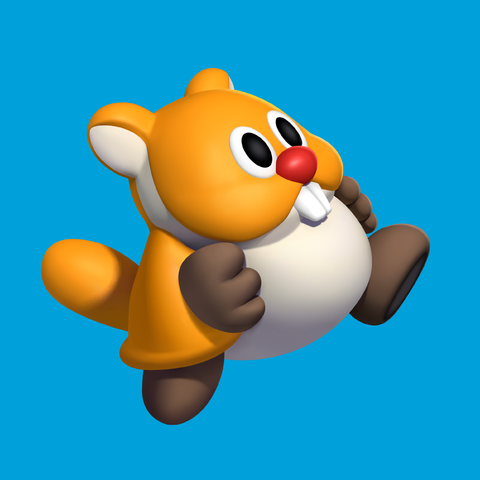 Info
Waddlewings are enemies that make their debut in New Super Mario Bros. U. These creatures are bright orange and resemble real-life squirrels, with a red nose, two pretruding teeth, beady eyes, and a cream-colored belly.
In New Super Mario Bros. U
The Flying Squrriel was first introduced in New Super Mario Bros. U. They appear most frequently in the Acorn Plains and Cloud Levels. They behave by usually gliding from side to side, but can also be seen running. They have the ability to cling to walls. They can carry Super Acorns in their hands while in the air, and will drop them if defeated.
Mario Party Island Tour
Waddlewings make a cameo in the minigame Starring Artist.
Names in Other Languages
Japanese
ズングリ(Zunguri)
Meaning
Stubby
Spanish
(NOA)
Ardillenita
Meaning
Pun on ardilla (squirrel) and llenita (full).
(NOE)
Ardigordi
Meaning
Pun on ardilla (squirrel) and gorda (fat).
French
Dendinard
Meaning
Portmanteau of "dent" (tooth), "dandiner (se)" (waddle), and "-ard" (suffix used for several uses, such as making pejoratives words, or forming animal names)
German
Feisthorn
Meaning
Pun on Eichhorn (squirrel) and feist (plump).
Portuguese
Pteroducho
Meaning
Pun on "pterodáctilo", meaning "pterodactyl", and "gorducho", meaning "chubby".
Gallery
Ad blocker interference detected!
Wikia is a free-to-use site that makes money from advertising. We have a modified experience for viewers using ad blockers

Wikia is not accessible if you've made further modifications. Remove the custom ad blocker rule(s) and the page will load as expected.