This article's subject exists primarily or exclusively within the Bullet the Waddle Dee(Comic) continuity.
Information in this article may not be canonical to the Party Ninja comics, games or anything to the Party Ninja series..
"

You can change the past. Just one thing, work for me only.

"

— 

Sterir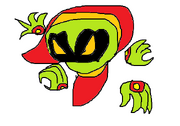 Info
Sterir is the villain of all versions of Bullet's comic.
Something seems..."broken"
This article is a stub. If you're an administrator, you can help by extending it.
Ad blocker interference detected!
Wikia is a free-to-use site that makes money from advertising. We have a modified experience for viewers using ad blockers

Wikia is not accessible if you've made further modifications. Remove the custom ad blocker rule(s) and the page will load as expected.