Choose your favorite character and go for the most goals in this powered-up game of hover hockey.

— Description
Info
Slippery Disc is a game on Cartoon Network. Even though the game is old, it is still playable on this link:http://www.cartoonnetwork.com/games/cc/slipperydisc/index.html
Characters
There is 5 starter characters with 3 unlockable characters, making it a total of 8 characters.
Starter Characters
These characters are playable as long as you will play.
Chowder
Billy
Flapjack
Echo Echo
Upchuck
Unlockable Characters
These characters would be needed to be unlock.
Controls
This section is currently under construction
There are two ways to play:
In Arcade

Artwork
Trivia
This game was inspired from hockey.
Theme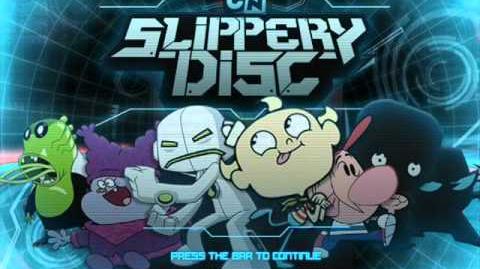 Ad blocker interference detected!
Wikia is a free-to-use site that makes money from advertising. We have a modified experience for viewers using ad blockers

Wikia is not accessible if you've made further modifications. Remove the custom ad blocker rule(s) and the page will load as expected.