Meow!!!
— Rocket Cat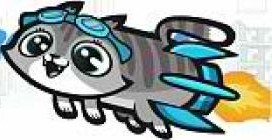 Info
Rocket Cat is the cat from Progressive. She is the result of a combined cat and a rocket(hence the name). She appears in 2 commercials so far, 1)Customer Tom trying to fuse a cat and a rocket. 2)Rocket Cat being seen for the first time. Her game could be found here:http://www.progressive.com/goodies/rocket-cat/index.html
In Party Ninja Comics
There was a Rocket Cat costume that was on sale next to Surprise Warrior.
Trivia
Rocket Cat is commonly said to be Nyan Cat¨cousin¨.
The cat that Customer Tom have in the commercial making Rocket Cat's debut could be Rocket Cat before his fusion.
In the second commercial Rocket Cat is in might be Customer Tom's doing.