Can you hear the spirit of the winds?

— Rena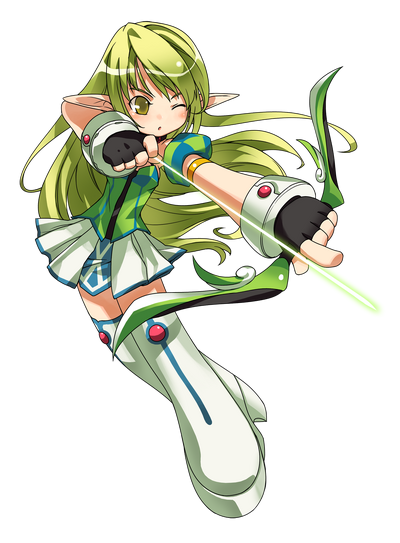 Info
Rena is a marksman with ranged weapons but can call on the elements to fuel her magic attacks as well. When cornered though, she has no problem striking enemies with her awesome kicks. She also has the ability to seemingly fly through the air with her double jump.
Special Ability
Her special ability is Nature's Spirit.Rena is able to summon Nature orbs to assist her in battle. These orbs allow Rena increase combo potential and buff her mobility. In addition, Rena is able to double-jump, shoot arrows from her bow, and charge Mana.
Background
Rena is an elf living in the mortal world. Her place in this world is jeopardized by the weakening of El, the power gems that energize everything including the connection to her home world. If this power fades the ties that bind the two planes will vanish as will Rena herself. She uses her abilities as a Ranger to protect the El and her friends.
First Class Advancement
Rena is required to be Lv15 to begin her first class advancement.
Ranger
1)Complete 2-4 in any difficulty.
2)Eliminate 7 Mickeys in 2-3 on Very Hard.
3)Speak to Hoffman in Elder.
4)Complete 2-4 on Hard.
After completing the Ranger quest chain, Rena can decide between advancing as Sniping Ranger, Combat Ranger, or Trapping Ranger.
Gallery
Coming soon.
Trivia
Ad blocker interference detected!
Wikia is a free-to-use site that makes money from advertising. We have a modified experience for viewers using ad blockers

Wikia is not accessible if you've made further modifications. Remove the custom ad blocker rule(s) and the page will load as expected.