Sorry, but I've decided I want this shop for myself. You'll just have to relinquish control.

— Fortune Street
Info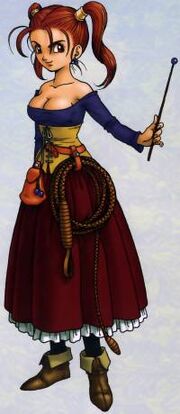 Jessica is a sorceress from a wealthy family in Dragon Quest VIII who is traveling to avenge her dead brother. She appears with Mario in the Mario/Dragon Quest crossover game Itadaki Street DS. She is also playable in the Itadaki Street Special. She later returns as a playable character in the Wii sequel Fortune Street.
History
Mario series
Itadaki Street DS
Jessica makes her debut into the Mario series in Itadaki Street DS as one of eleven playable Dragon Quest series characters.
Jessica Hair and Jessica's Clothings are collectible items that can be equipped on customizable characters based off of her. Jessica will appear in Fortune Street as a playable participant.
Fortune Street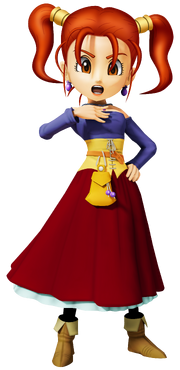 Jessica returns in the sequel Fortune Street as an unlockable character, unlocked by placing first or second on the Robbin' Hood Ruins board in Tour Mode. Her appearance is redesigned to match her original appearance more in the Dragon Quest series. Jessica's rank in Fortune Street is S rank.
Ad blocker interference detected!
Wikia is a free-to-use site that makes money from advertising. We have a modified experience for viewers using ad blockers

Wikia is not accessible if you've made further modifications. Remove the custom ad blocker rule(s) and the page will load as expected.