This article is about a subject in the real world.
Information in this article is about real-life people, companies and objects, and does not relate to anything about Party Ninja
This article is currently under construction
(Edit | Similar)
It is not complete by community standards, but you can help by adding information and images
Info
Facebook is an social-website that you can connect on. Facebook is an online social networking service. Its name comes from a colloquialism for the directory given to American university students. Party Ninja, Surprise Warrior, Bullet and Sweet Tim(coming soon) have an Facebook page so far.
Founded
It was founded on February 4, 2004 at Cambridge, MA.
Headquarters
It's headquarters is at Menlo Park, CA.
CEO
The CEO is Mark Zuckerberg.
Founders
It's founders are Mark Zuckerberg, Dustin Moskovitz, Eduardo Saverin, Andrew McCollum, and Chris Hughes.
App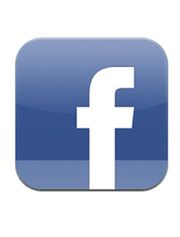 The Facebook app is free on the App Store. It haves more features.
Ad blocker interference detected!
Wikia is a free-to-use site that makes money from advertising. We have a modified experience for viewers using ad blockers

Wikia is not accessible if you've made further modifications. Remove the custom ad blocker rule(s) and the page will load as expected.