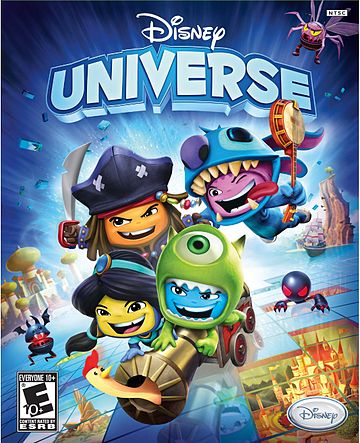 Info
Disney Universe is a 2011 co-operative action-adventure video game, published by Disney Interactive Studios. It was announced at E3 in 2011 and was released on PlayStation 3, Xbox 360, Wii, and Microsoft Windows on October 25, 2011 in North America and October 28, 2011 in Europe. It features the ability to suit up as characters from multiple Disney franchises, including the full-length animated feature films like The Lion King, Pixar feature films like Monsters, Inc., live-action films like Pirates of the Caribbean and television series like The Muppet Show.
Gameplay
The game resembles Lego games or LittleBigPlanet, with a few notable additions. Up to four friends can connect through local multiplayer and play through 6 different worlds to defeat enemies, and collect powerups and coins. One unique feature is that the enemies actively try to hinder a player's progress by setting up traps or hiding key items. The two main attractions of the game are that players can travel to 6 worlds from classic and contemporary Disney and Pixar properties, consisting of Alice in Wonderland, Pirates of the Caribbean, The Lion King, Wall-E, Monsters, Inc. and Aladdin and acquire 45 costumes based on numerous other Disney franchises, such as The Little Mermaid, Tron, Mickey Mouse, Lilo & Stitch and Tangled.
Downloadable Content
Downloadable content has been announced to be a big part of Disney Universe for the PlayStation 3, Wii, and Xbox 360 versions of the game. Through the "Online Shop" featured in the game or the PlayStation Store, Wii and Xbox Marketplace the DLC's will feature additional costumes and worlds. The first release featured a "Disney Villains Costume Pack." A theme-pack based on The Nightmare Before Christmas, was released near the Christmas season. Theme-packs based on Phineas and Ferb and The Muppets were released in March 2012.
External Links
Ad blocker interference detected!
Wikia is a free-to-use site that makes money from advertising. We have a modified experience for viewers using ad blockers

Wikia is not accessible if you've made further modifications. Remove the custom ad blocker rule(s) and the page will load as expected.