Can you keep a secret?
This article contains plot details about an upcoming comic, character, or game.
Yay, baby, yay!! I'm on fire. Thanks to you, I'm all light up! Prepare to meet your doom!!!

— Burning Leo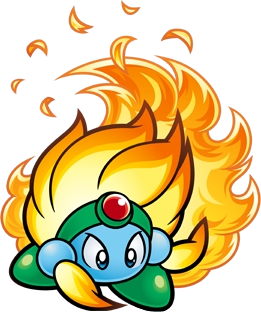 Info
Burning Leo is a character from Kirby Super Star, Kirby Super Star Ultra, and Kirby Mass Attack(cameo in Kirby Brawlball)
In Party Ninja Comics
Leo is short-tempered and always want to pick a fight. This is a reason why him and Birdon keeps fighting each other more than working together.
Trivia
Ad blocker interference detected!
Wikia is a free-to-use site that makes money from advertising. We have a modified experience for viewers using ad blockers

Wikia is not accessible if you've made further modifications. Remove the custom ad blocker rule(s) and the page will load as expected.