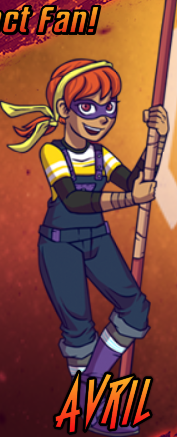 Info
Avril is Donatello's female character in Super Brawl 3. Avril is French for April. Her appearance suggests two things:Either she is April in disguise or it is a relative of April.
Biographical Information
Her ethnicity is Caucasian. Her weapon of choice is a Bo. Her occupation is a Turtle fan.
Physical Description
Her species is human and her gender is female.
Ad blocker interference detected!
Wikia is a free-to-use site that makes money from advertising. We have a modified experience for viewers using ad blockers

Wikia is not accessible if you've made further modifications. Remove the custom ad blocker rule(s) and the page will load as expected.