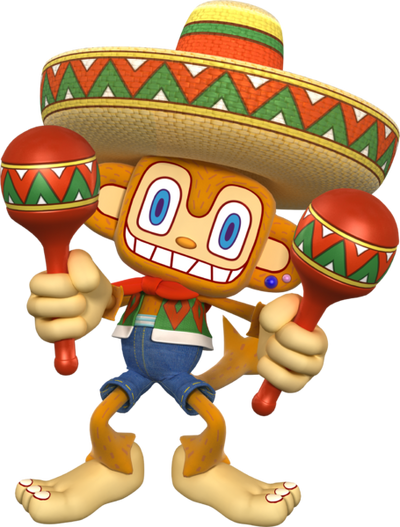 Info
Amigo is a Mexican stereotype orange monkey that likes to play with his maracas. He is the star of Sonic Team's game Samba de Amigo and is a regular in the SEGA mascot lineup. His name is Spanish for friend, as is his sister's name.
Amigo is a monkey boy who dreams of being a great maraca player. He is hyperactive, and can get so caught up in the Latin rhythm that he cannot stop shaking his maracas. His favorite food is baked bananas, the specialty of his hometown. He is very talented in music and is a team player, but not the brightest bulb in the refrigerator. Amigo has a very clear friendship with Sonic the Hedgehog though the origin of their relationship is unknown. He also has a sister known as Amiga.
Something seems..."broken"
This article is a stub. If you're an administrator, you can help by extending it.
Ad blocker interference detected!
Wikia is a free-to-use site that makes money from advertising. We have a modified experience for viewers using ad blockers

Wikia is not accessible if you've made further modifications. Remove the custom ad blocker rule(s) and the page will load as expected.